This year, all tickets have to be personalized. This is not only to combat ticket fraud, but because permits and possible measures demand tickets to be on name.
To manage your order at a later moment or in care you can't find your e-mail. Check this link: https://account.paylogic.com/i-lost-my-tickets
Below, you'll find all steps to personalize your tickets.

Step 1: You receive an e-mail
Since February 1st 2022, it's possible to personalize your tickets. This can be done until shortly before the festival. In case someone is not sure if they will be able to come to Castlefest 2022, we advise you to wait with personalizing their ticket.
Your tickets can be downloaded from July 18th on, as long as they're personalized.
Entrance tickets for children and extra products like tokens and parking tickets don't have to be personalized.
Please mind: All e-mails regarding the tickets and personalization will be sent to the e-mail address that is registered during the ordering process. It's possible these e-mails end up in your spam inbox.
On February 1st, you received an e-mail to personalize your tickets. The link in this e-mail remains usable.
Children's ticket and other items like tokens and parking tickets don't need personalisation.
The e-mail looks like this: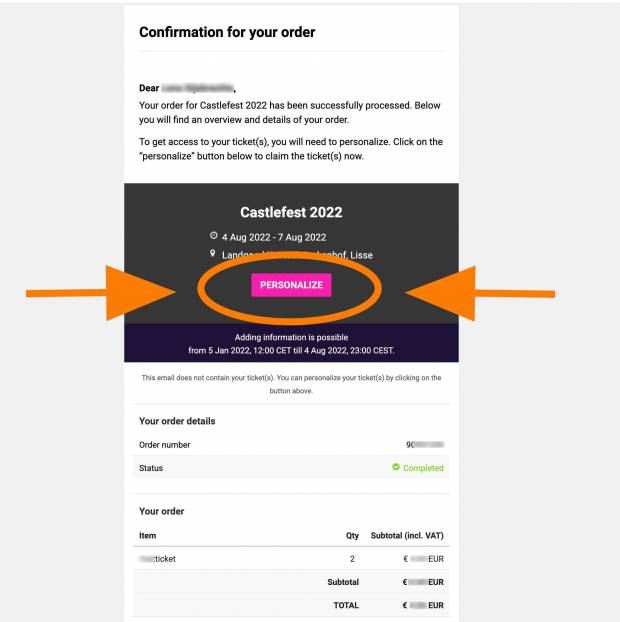 Step 2: You personalize your own ticket
When you click the button in the mail, a special Paylogic webpage opens. All products of your order are listed.
In case you want to view this page in another language, you can click one of the language options in the upper right corner.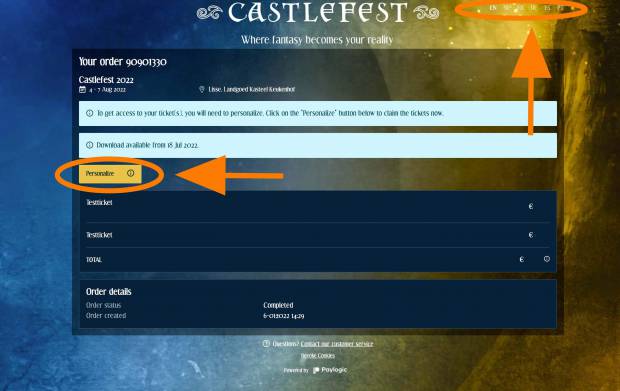 Click on the yellow button to personalize a ticket. Select all tickets that have to be in your name, these are the tickets that give you access to the festival.

Click on 'confirm' or 'bevestig' and fill in your information.
After that, you'll be able to see which tickets you claimed in the overview. Below the tickets will be the text 'claimed by YOU' or 'geclaimd door U'.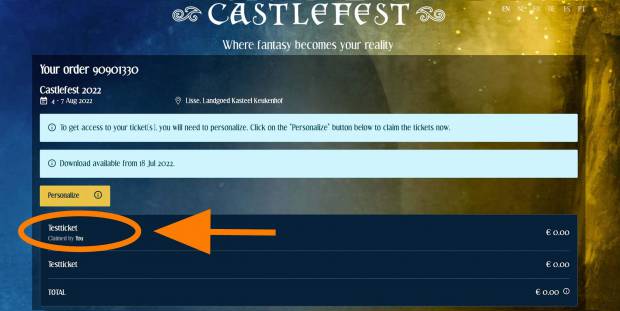 Step 3: Personalizing tickets of other people
In case you ordered tickets for multiple people, these tickets will have to be in name of the user as well.
You do this by sending those tickets to the right people. Here's how you do this:
After you personalized your own ticket, you can click on the button of Step 2 again. The text on the button changes into 'send' or 'verzenden'.
When you click on this button, you can select all non-claimed tickets. Select the tickets you want to send to the next person. Below the listed tickets, there are two entry fields to fill in the e-mail address of the person who should receive the selected tickets.
Please mind: Don't copy the e-mail address between the two fields, but fill in both fields. This way, we minimize the spelling mistakes!
By clicking 'confirm' or 'bevestig', an auomated e-mail is send to invite these people to personalize their ticket.
In case you have tickets for multiple others, repeat this process until you've send all tickets to their owners.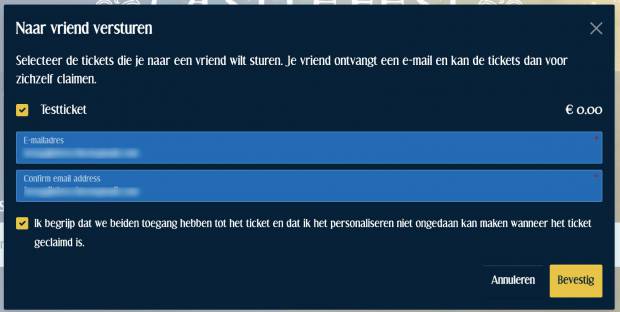 Step 3.1: You receive an invitation to personalize your ticket
In case someone else ordered your ticket, this person follows step 3 and sends you an invite to personalize your ticket.
You receive an e-mail from Paylogic to personalize your tickets. Do this by clicking the button in the e-mail: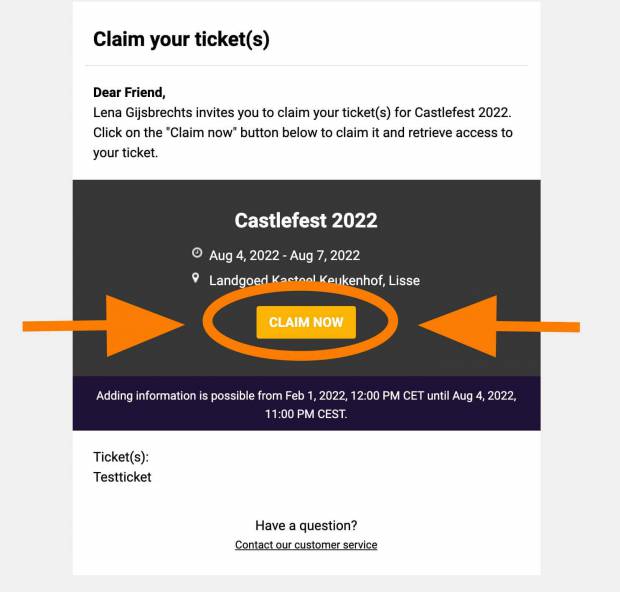 A webpage opens, on which you see all tickets that are assigned to you. These tickets have a checkmark in front of them. In case you agree with these, you can click on 'claim tickets'.

In the pop-up that opens, you fill in you first name, surname and e-mail address.
Once you filled these in, you can click 'confirm' or 'bevestig'.
You tickets are now personalized and can be downloaded after July 18th, 2022.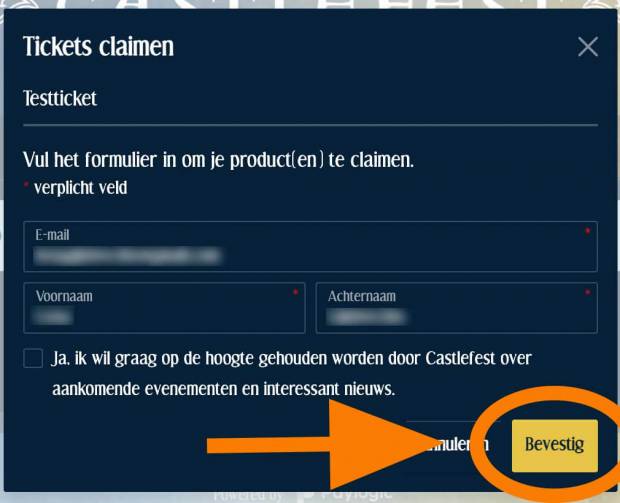 Step 4: Checking if everything is correct
As ticket buyer you can see the status of all tickets.
As soon as others have personalized the tickets you sent them, you will see this in the overview. It is listed under the specific tickets (like the picture below).
As ticket buyer, you remain owner of the order and kan keep using the link in the mail to see and edit your order.
From July 18th forward, you'll have the option to download all tickets. Other people will only be able to order the tickets that are personalized to them.