We notice some frequently recurring questions about the vouchers. We've collected all answers in this blog post!
Below you'll find a description on how to use your voucher when ordering new tickets. At the bottom of the page, you'll find some frequently asked questions about the voucher and refunds.
Where can I find my voucher?
On July 19th, 2021, every ticket holder received two e-mails. The first e-mail came from us. It explained that all old tickets were converted to vouchers. The voucher in itself does not grant access to Castlefest 2022 but can be used as a payment method in the special voucher shop (until December 2021) and in the ticket shop for Castlefest 2022.
The second e-mail was from Paylogic. It contained once more information about the voucher and at the bottom of the e-mail, you can find your voucher code. This is a long code of 20 capital letters and numbers.

How to use your voucher?
Like explained above, your voucher is a payment method and does not grant you access to Castlefest 2022. You have to buy new tickets but can use your voucher as (part of the) payment.
Go to our ticketpage and order your tickets.
At the bottom of the page, you confirm your order and an external page opens to finish your order.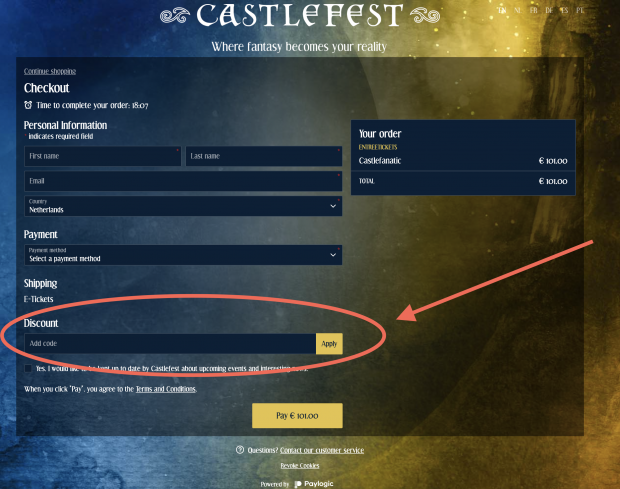 Add your voucher by putting it in the box that says 'add code' and click on 'apply'.

Then the value of your voucher will be subtracted from the total price.

In case of multiple vouchers:
In case you have multiple vouchers, you have to add them one by one. This is done by putting a voucher code into the box and clicking 'apply'. Then you first empty the box before putting a new code in it.
Repeat until you have added all your vouchers.
Lastly, fill out the personal information and finish your order.

My voucher is worth more than my new order for Castlefest 2022. Now what?
In that case, you'll receive a new voucher after finishing your order.
This new voucher's value is the remaining amount.
You can use this voucher for an extra order, donation or get a refund through our refund form.
You ask for a refund by filling in the refund form.
Fill in the form and send your request by clicking the button at the bottom. You'll see a confirmation in your screen. They don't send an extra confirmation through e-mail.
Paylogic will process all refunds as swiftly as possible.
They need some time to process all refunds as they provide this service not only to us but to other events as well. This is why they work by processing refund requests in batches. As soon as your request has been handled by their system, you will receive an e-mail.
Why does the refund form keep saying that my order number is wrong?
You are probably filling out the order number of your Castlefest 2022 tickets.
The form needs the order number of your Castlefest 2021 order, this is the order that has been converted to a voucher. You can find this in old e-mail confirmations, the bank transfer and on the old tickets themselves. Waarschijnlijk vul je je het bestelnummer in van je bestelling voor Castlefest 2022.
This number is a series of 8 numbers, between 70000000 and 90000000.
Ik lost my voucher code. Now what?
You should have received an email from Paylogic on July 19th, 2021 with the voucher code. It is possible that this email ended up in your spam folder at the time.
If you have used part of your voucher for a donation or in the special voucher shop, you have received a new email with your new voucher after completing that order.
If you really can't find your voucher anymore, send an email to info@castlefest.nl with the email address you used to order your tickets at the time. Then we will help you further.