Very soon we will celebrate Ostara during Castlefest celebrates Ostara. Food is an important part of our events and obviously this is also the case for our live events. For the occasion we have a special Ostara recipe for you: Hot Cross Buns.

What are Hot Cross Buns?
These sweet buns started as food to honour Eostre, the spring goddess. The cross on top of the buns is a reference to an ancient symbol: the sun wheel. These round buns therefore make the perfect addition to the spring equinox, the day on which light overcomes darkness. The buns remain popular over the centuries. In 1592 Queen Elisabeth I ordered that Hot Cross Buns could only be sold on Good Friday, Christmas and during burials. They were too special to be eaten on any other regular day. People started to illegally bake them themselves, but if they got caught, they had to give the Hot Cross Buns to the poor.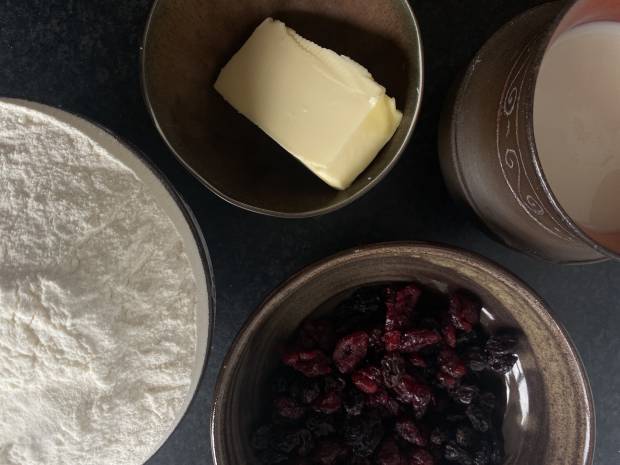 Hot Cross Buns Ingredients
We hear you thinking: I would like to try these! We completely understand, so we happily share the recipe with you. You need the following ingredients:
1 tbsp dried yeast
250 ml milk
60 gr sugar (plus two extra tbsp for glaze)
450 gr flour
50 gr butter, room temperature
1 tsp salt
2 tbsp water
100 gr mixed dried fruit (we used cranberries and raisins )
2 tsp mixed spice
How do I make Hot Cross Buns?
Heat the milk in a small pan until warm and add the yeast and 1 tsp sugar. Leave the mixture for 20 mins until frothy.
Mix the flour and salt in a large mixing bowl. Add the butter to the mixture. Then add the remaining sugar, mixed spice and mixed dried fruit to the mixture and make sure it's well mixed.
Now stir in the yeast mixture and knead the dough on a floured surface for five minutes.
Shape the dough into a ball and put it back in the mixing bowl. Cover the bowl and leave it in a warm place for 45 mins until the dough doubles in size.
Preheat the oven to 200 degrees Celsius.
Divide the dough into 12 buns. Place them on a greased baking tray and make a cross with a sharp knife on each bun. Bake the buns in the oven for 15-20 mins, until they have risen and are golden brown.
Mix two tbsp sugar with two tbsp boiled water until the sugar has dissolved. Brush this glaze on the buns while they're still hot.
Optional: you can fill the cross shape with frosting, cream, powdered sugar or something else. But they taste just as wonderful without filling!
We're very curious how your Hot Cross Buns turned out, please share the results with us. Bon Appetit!