The Wonder Of It All
At Castlefest you will find all sorts of beautiful creatures. Pirates, vikings, Disney princesses and wizards: every creature you can think of and more: they are all there. Between those magical souls that move around the festival grounds, you will also notice some creatures standing still. They don't move, but they have been familiar faces at Castlefest for many years. You will recognize them from afar and they will give you a friendly welcome year after year. The coming time we will introduce you to the unique statues of Castlefest in our Vana Grimoire blog.

Be amazed
On top of her rock, Twoia invitingly looks at you. This little elf girl is present at Castlefest since 2007. Twoia was created by Martin Jansen. For years Martin was the creative mind behind many important elements that characterise our Vana events. You will come across his name more often in the coming Vana Grimoire blogs on our statues. Together with his sister Irma he created these statues. Wonder, beauty and respect were the core values of their work: the art of letting yourself be amazed over and over again by everything beautiful in the world. Her name Twoia is no coincidence: The Wonder Of It All.

On Holiday during Castlefest
Although they are very strong, even statues are vulnerable for the wheel of time. After almost nine editions of attending Castlefest, Twoia was in need of some love to give her back her appearance as of old. Therefore in 2015 she went on a well deserved holiday. She stayed with Jeroen of Magic Within, who made sure her beautiful shine and magic returned. However, her arbor was present at Castlefest that year, including a message by Twoia regarding her absence. Since 2016 Twoia has attended Castlefest every year and she was also present during online events like the Castlefest Home Edition and Castlefest celebrates Ostara.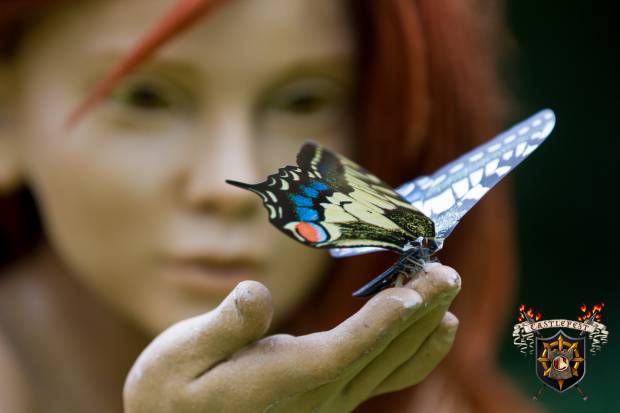 Embrace your inner fire
Twoia asks you not to lose the ability to wonder. On her hand rests a butterfly: an Old World swallowtail. This butterfly, that stands out because of her remarkable colours, is a beautiful creature of nature. She flies gracefully above the fields and fits perfectly in the world of wonder. Butterflies symbolise transformation and encourage you to literally and figuratively embrace your inner fire, to spread out your wings and to never stop looking for what makes you happy. Be who you want to be, pirate or princess, hit the road, experience, love and wonder. Twoia can only applaud that!