How does the Resell platform of Paylogic/Seetickets work?
We're all looking forward to the upcoming Castlefest edition. Yet, sometimes plans or circumstances change. It may happen that you've bought a ticket you'll no longer use.
Past experiences have shown that reselling tickets through external parties can create unpleasant situations, in which we cannot help seller or buyer. We therefore strongly discourage this.
To still make it possible to resell tickets, our ticket distributor Paylogic (See Tickets) has developed their. own Resale platform. This allows you to offer single tickets and products for sale for 80% to 100% of the price you paid for them.

You find the Resell platform here: https://resell.seetickets.com/castlefest/
How to purchase a ticket through this tool? You can find more information about that at the bottom of this blog!
Paylogic also has a change tool: Through this change tool, you can upgrade your ticket to another ticket yourself. More about that can be found in this blog.
How do I sell my ticket?
After completing your ticket order for Castlefest, you have received a confirmation email. You will need this email again. This means that only the main buyer (the person who placed the order) can make adjustments to the order.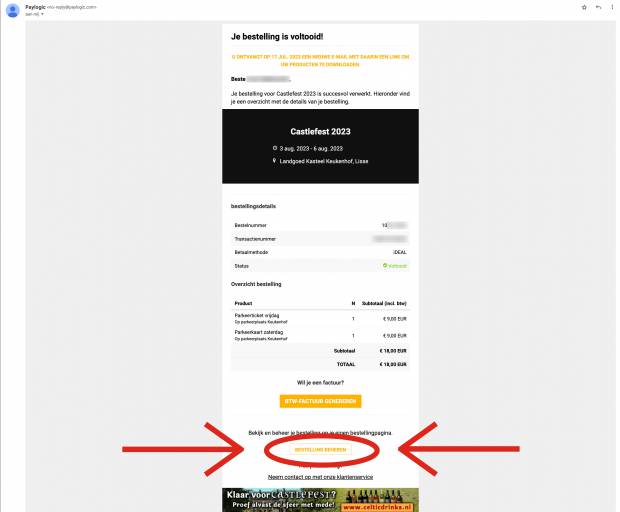 At the bottom of the confirmation e-mail, you will see the 'manage order' button. When you click this, you will be redirected to the web page as shown below. You will then find an overview of your order. Hover over the third option 'More actions' and select 'resale' in the drop-down menu.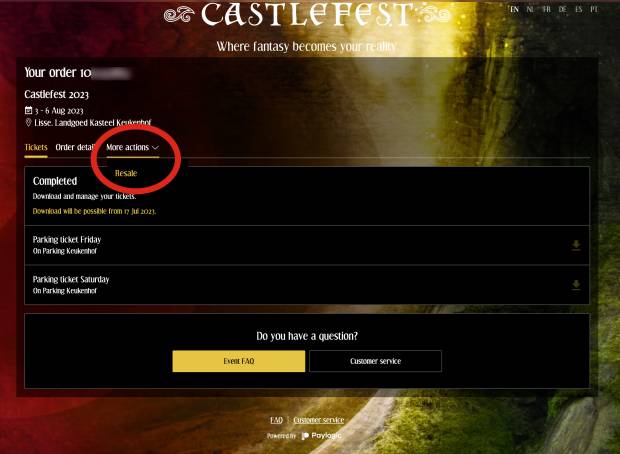 A pop-up window will open where you can select which ticket you want to sell.
Note! You can select one ticket at a time. If you want to resell multiple items, you need to repeat the following steps again for each of those tickets.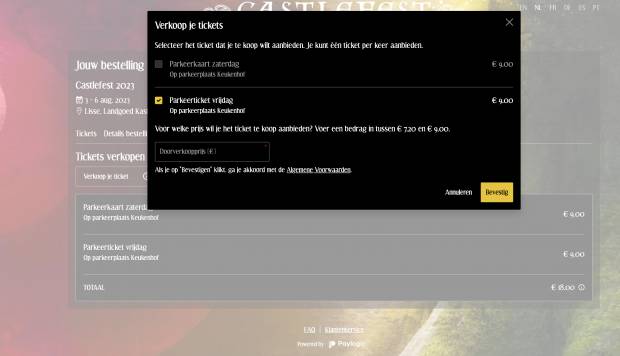 After selecting the ticket you want to sell, the system asks you to indicate the amount you want to sell the ticket for. This price may be between 80% and 100% of the price you paid for it yourself.
When naming the price, the system asks for a number with two decimal places and a dot.
Example: Do you want to sell your parking ticket for €9? Then you write this down as 9.00, or 9 [dot] 00.
After confirming your choice, you return to the overview page. Here you will see that the ticket is for sale. You will also receive two e-mails.
Mail 1 is the confirmation that your ticket is for sale.
Mail 2 is a confirmation that you have created an account on the Resale platform.
Important: in your account on the Resale platform, you cannot make any further changes to your order and tickets offered for sale. You do this via the link in the e-mail. You can read more about the waiver of resale later in this blog.
Can I resell my camping ticket?
A 'Castlefanatic+camping' is one ticket. Therefore, it's not possible to sell only the camping part of your ticket. Do you have a 'Castlefanatic+camping' and want access to the festival all days but not stay at the camping? Buy a separate Castlefanatic ticket and sell your 'Castlefanatic+camping via the resale tool.
Another option is to exchange your Castlefanatic+camping ticket for a Castlefanatic ticket. More about that can be found in this blog.
Is it guaranteed I get my money back?
No, you will only get your money back for your ticket if your ticket is bought by someone else. There is no guarantee that someone will buy your ticket. This works on the basis of supply and demand.
If your ticket is sold you will receive the amount you asked for it back in your account soon.
I want to cancel the sale of my ticket
Have you offered a ticket for sale and changed your mind about selling? It is possible to withdraw your offer, as long as the ticket has not yet been sold or is in someone's shopping basket.
This can be done in two ways:

Option 1: Via the first confirmation email, go back to the webpage to manage your order. There you can choose 'Withdraw offer'. Select the tickets you no longer want to sell and confirm.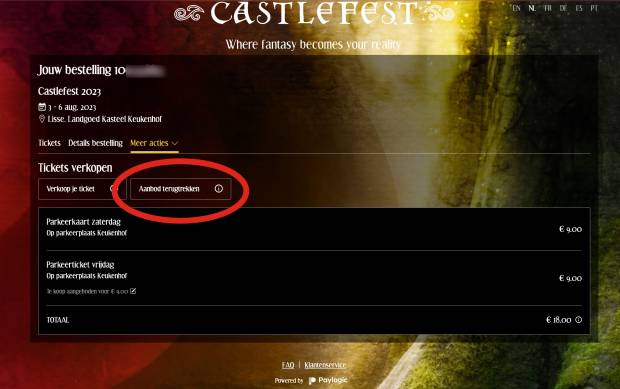 The other option is via the mail you received after you put your ticket up for sale. In this mail, there is a big button saying 'Take back my ticket'.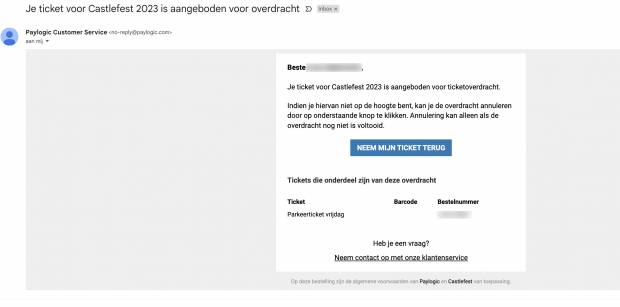 How to buy a ticket?
If you missed out in our ticketshop and the ticket you wanted is sold out, take a look at the Resale platform: https://resell.seetickets.com/castlefest/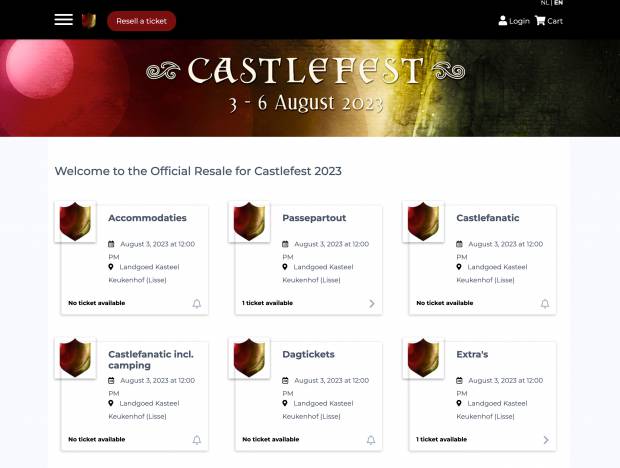 The tickets are divided into categories. You can see at the bottom of each category whether tickets are on sale. Is your desired ticket listed? Buy it by adding the ticket to your shopping basket. Then create an account and complete your order. Congratulations on your ticket!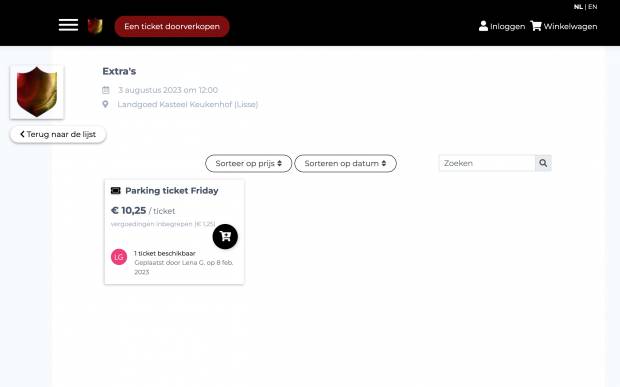 Is the ticket you want not offered (yet)?
Then simply set up a notification to receive an e-mail when tickets become available in your desired category! You do this by clicking on the little bell at the bottom right of the category and entering your e-mail address.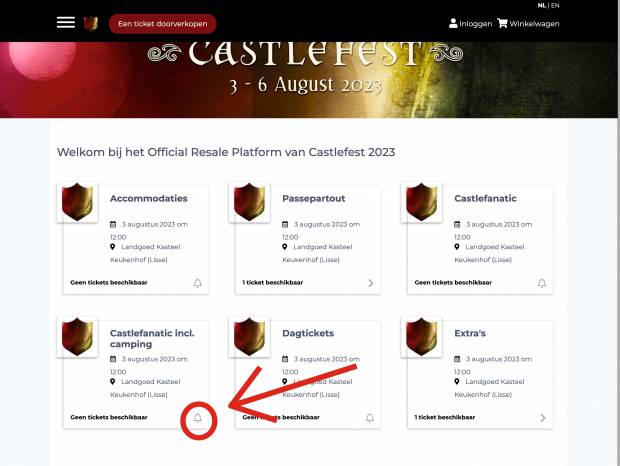 This way, we keep reselling tickets safe and we can make sure as many people as possible get the tickets they are looking for.
If you still have questions, please email info@castlefest.com and we will be happy to help!