Let's see what's brewing at team Interne Catering
Castlefest wouldn't exist without our amazing volunteers! Working hard before, during and after the festival to make Castlefest a wonderful festival. There are over 20 teams with each their own tasks and responsibilities. In these blogs, our volunteers will tell you about working in their team. This time: Cathlyn of team Interne Catering [crew catering].
Please note: As all volunteer information is in Dutch, we will refer to the Dutch names of the teams in our blogs as well.
Team Interne Catering ensures a well-filled belly for all volunteers and artists. They take care of the meals right from the start of the build-up, but of course during the festival days as well. Cathlyn works at Interne Catering during the festival. "I have been a volunteer for eight editions, always in this team. My sister had been volunteering there for much longer, and when the team was looking for more people, my sister asked me along. During my first time there, our team had plenty of other first-time volunteers. That quickly creates a bond and over time I've gained some close friendships."
It starts before the festival
To become a volunteer, you sign up for your team of choice on the volunteer website, more info and the link can be found here. After that, some time will pass in which all applications will be reviewed and you will be allocated to a team. Once everything has been finalised, you will receive a confirmation e-mail stating the team you will be part of during the oncoming edition. Your team preferences will always be taken into account.

"A couple of weeks before the festival, the pre-festival fun starts. Our coordinator Lotte contacts us about the shifts. You work 8 hours a day, but can choose whether you prefer a connected shift, i.e. eight hours at a stretch, or prefer a broken shift. In that case, you work a few hours, then you have a break and later that day you work the remaining hours. You can indicate preferences to be free at a certain time to see certain bands or attend a lecture, which will be taken into account whenever possible when the work schedule is made. And does it happen that a band plays during your shift? Then I can always see if anyone wants to swap on Wednesday evening. We then see each other after the general volunteer chat and are happy to help each other."
The shifts
The Interne Catering in the crew area is one of the volunteer hotspots. We're open longer than the festival terrain. Breakfast is ready from 6.00h and at night you can come by for a late-night snack. The first work starts at 6.00h. This sounds early, but I like that shift: providing all the sleepy faces that pass by their first cup of coffee. During the last couple of editions, I mostly had shifts later in the day. I make sure to bring my bag with me with all the stuff I need that day, so my work clothes and a nice outfit for when I'm off. As a team, we have a place where we can store our belonging and our own place to eat, away from the crowds. When I get there in the morning, I'll eat my breakfast and look at the day's schedule. Is there any news? Are we offering specials today, like croissants or eggs for breakfast? And of course: what are we eating tonight?
How do you spend your time?
During my shift, I wear long trousers and closed shoes, but when I am free, I quickly change into a beautiful dress and put on some make-up. That's how I enjoy the festival. I love to stroll over the Castle grounds and enjoy exploring all there is to see. For the writers' market, I always take extra time and chat with the writers. When my shift is about to start, I put my work clothes back on. You can just keep your make-up on, but we won't wear jewellery on our hands and arms and we tie up our hair.
The different tasks
There are three positions to work in at Interne Catering. These are at the counter, to serve food, in the kitchen to help prepare it and food and at the washing zone. We rotate during the shift, as this keeps the work fun and varied. After all, just doing dishes tends to get boring ;-) Fortunately, we have had one of those industrial dishwashers now, which helps a lot with getting everything really clean. In my first year, we had to flush everything with a waterhose. Still, on hot days this did make for the best water fights!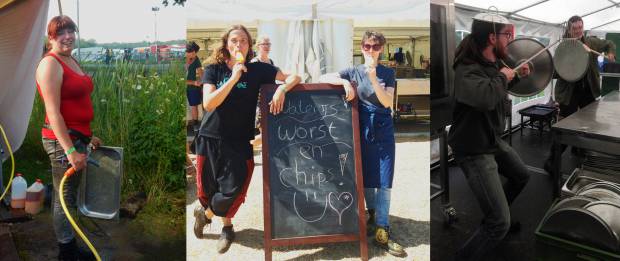 Another change made a few years ago: real tableware is used instead of disposable. This makes for much less waste, but does result in a bit more washing up. Everyone does their part and scrapes the last food scraps off their plates and drops off their plate and cutlery at the start of our washing zone. As you can imagine, the dishwasher runs almost continuously!
We cater to around 1,000 people. Not just volunteers, some bands and acts join for dinner as well. So we start cutting and preparing dinner early in the day. For every vegetable you use a clean cutting board and knife. Always work clean and tidy. Our coordinator Lotte and cook Eric handle the meals for people with allergies themselves, to make sure that too goes smoothly. Together they decide on all the meals, providing both vegan options and options with meat for every meal and calculating the nutritional values of the dishes. Everyone works hard at Castlefest and that's easiest on a well-filled stomach!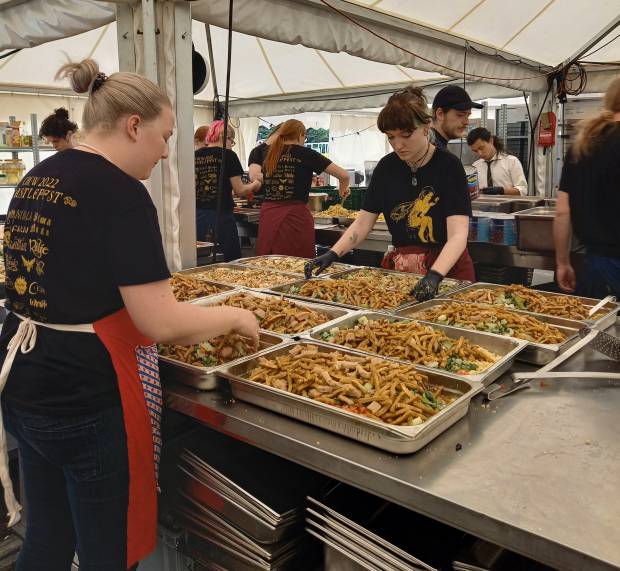 I prefer to work at the counter. During breakfast and lunch, you make sure all breads and spreads are replenished. During dinner, you scoop up the food. But those aren't the reasons I love being here! It's the spot where all other volunteers pass you and I love the interactions we have. You have a nice chat and get to know new people. We can also keep an extra eye out for each other. On hot days, I ask everyone if they are drinking enough or give tips like 'Grab some broth!'. We're all here together after all, and that's how you help someone through the day when things are a bit more challenging - due to heat, for example.
"Most problems can be solved with water and melon"
We're working behind the scenes, so you won't see any visitors during your shift. You don't get to experience the atmosphere of the festival terrain at that moment, but we more than make up for that ourselves! I actually like working for volunteers. You see the same faces all the time and it creates a bond. Sometimes I'm there to lend a listening ear when someone comes to sit down for a moment. I'm here for you, so just tell me and let it all out! I liten and make sure you sit down with some water of some melon. After all, that solves almost everything!

Something for you?
For all tasks in the kitchen, the following applies: If you work hard, there is plenty of time to sit down, have a drink and enjoy the sunshine in between. Together with the rest of the team, we make sure to have a fun time. You don't have to be able to cook to join Interne Catering, as long as you can roll up your sleeves and get busy.
We work hard, but there's still time to chill and have fun. As there's a clear schedule for all days, sometimes we can already make preparations for next day's meals. We do not depend on the layout of the festival site or the line-up on the stages. After all everyone has to eat! And a big advantage: we always know what's for dinner ;-)
Would you like to come and help Cathlyn in team Interne Catering or would you like to come and help in another team? The information about all the teams and being a volunteer can be found here (in Dutch) on the website. Volunteer registrations for Castlefest 2023 have opened on January 30th, 2023.