If you've been at Castlefest before, you can hardly have missed it; the Wicker.
The large figure, built with woven willow branches, can be found on the Castle Grounds near Forest Stage. On Friday and Saturday during the day, you can place an offering in the Wicker. On Saturday evening, the Wicker is set aflame during the Wicker Ritual.
The ritual of the Wickerman is a pagan custom to celebrate the first harvest and honour the Celtic god Lugh. This day is also known as pagan festival Lughnasadh.
What does a Wicker look like?
At Castlefest, the Wicker is not always shaped like a man. Each shape it appears as has it's own meaning and theme. We could not predict what the next edition's Wicker would look like. That is up to the designer, Jeroen Overwijn.
But Jeroen doesn't choose the shape either. He lets next year's energy lead him through dreams, symbols and shamanistic work to understand the new theme. These visions become clearer over time. He captures them all in a mood board.
After that, he will let it rest for some time before translating the visions into a threedimensional figure. To make sure the figure is right, he wants to cross paths with it four times before handing over the definitive design:
"This has resulted in many amazing moments over the years that made me wonder and I am very grateful for them." - Jeroen, 2021
Bring an offering
Every year, it is possible to bring a gift or offering to the Wicker. For this, you can pick any object, as long as it is made of flammable materials.
Besides the Wicker's theme, it may have a personal meaning to you as well. You can use it as a way to symbolize the end of a period, or instead to mark a beginning.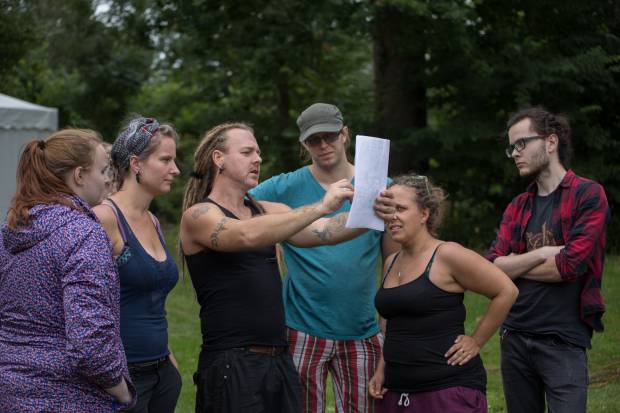 How it all started
At the start of 2007, two editions of Castlefest have already taken place. During that time, Castlefest is organized together with Steve and Jennifer of Pagan folk band Omnia. Steve has been building Wicker artworks since 1997, that were burned during social gatherings. After pitching his idea unsuccesfully to other festivals, he mentions it during a brainstorm session for Castlefest. His passion for the old Celtic constructions, which you fill with flammable gifts as offering to the gods, goddesses and nature spirits, feels like a perfect match and the rest is history: The first Wicker is ignited at Castlefest in 2007.
The first three Wicker Rituels are designed by Steve and were built by a small group of volunteers during the construction of the festival. These volunteers, led by Tjerk van der Stap, will make sure each design becomes a true piece of art.
In the beginning, the musical accompaniment of the Ritual is Omnia's song of Auta Luonto:
Auta luonto,anna voima, tee vereni vahvemmaksi
Help me nature, give me power
Make my blood run strong and stronger
From 2010 on, Martin Jansen takes over designing the Wicker. Martin has also been known for his statues like Twoia and Lugh. In the meantime, the Wicker Ritual has grown into an important moment for many people. It is decided that the Ritual should be for everyone, by everyone, and no longer connected to only one band. The musical accompaniment shifts in 2012. Fieke van den Hurk designs a unique composition, especially for the Wicker Ritual: a musical change that gives the ritual its own character. You can still find this composition on our Castlefest 2015 CD.
The Ritual is and will forever be changing and evolving. The composition has been changed, elaborated and in Corona times even simplified. Each time we flow with the energy that the Wicker Ritual brings and are in awe of where it leads us. An ever ongoing process of learning and experiencing, which we hope to share with you for many years to come!
In December 2021, we launched a book in honour of 15 years of Wicker Rituals at Castlefest. The book is in Dutch, contains images of all Wickers up to 2021 and has in-depth interviews with the people involved with the Ritual.
It can be found here in our webshop, while stocks last.
Special thanks to Coan Halmans for the header photo and Hans Glaudemans for the photo of the Wicker team.