Let's see what team Toezicht is up to!
Castlefest wouldn't exist without our amazing volunteers! Working hard before, after and during the festival to make Castlefest a wonderful festival. There are over 20 teams with each their own tasks and responsibilities. In these blogs, our volunteers will tell you about working in their team. This time: Dorien of team Toezicht [Surveillance].
Please note: As all volunteer information is in Dutch, we will refer to the Dutch names of the teams in our blogs as well.
The people of team Toezicht are the eyes and ears of the festival. They will make sure that people get access to the right places and keep an eye out to see if people follow the house rules. Dorien started eight years ago in team Toezicht: 'My friends volunteered at festivals. It sounded like fun, but those festivals and their tasks didn't appeal to me. So I searched for something that did appeal to me and found Castlefest. At first, I was not sure if Toezicht would suit me, but I haven't taken that green polo shirt off since!'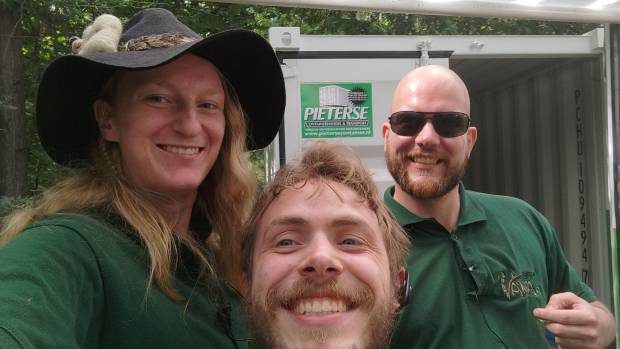 All members of Toezicht wear dark green polo shirts during their shift. That way, you'll notice right away who to show your festival wristband to at the camping entrance. Due to being recognisable they also get many questions from visitors, which they gladly answer.
Sectors and squads
The Castlefest site is big, especially with the campsite and backstage/service areas included. That is why team Toezicht works with squads and sectors. The whole terrain is divided into a number of sectors, within which different posts have to be manned.
There are fixed posts and surveillance posts. With the former, it mainly comes down to wristband checks at a passage between the festival and a restricted area. On a surveillance post, you walk around in the sector and keep an eye on everything.
As a volunteer, you are assigned to a 'squad'. This is a group of people you will work with throughout the festival, led by a squad leader. Together with your squad you are responsible for a sector. The squad leader makes sure everyone is at the right post when the shift starts in that sector.
Depending on the preferences of the squad, everyone changes positions every 1 or 2 hours. After a few hours, you and your squad move on to the next sector. This means you'll see (almost) the whole festival during your shifts. There are more squads than sectors, so if your squad has no sector during a period, you are completely off duty!
Setting 2022
Dorien tells us what it was like during Castlefest 2022: 'The layout of the terrain changes a bit every year. Sometimes there are big changes that visitors see as well, other times there are mainly behind-the-scenes changes. This makes that the layout of the sectors and the number of posts within may vary every year. In 2022, there were three sectors and four squads with about ten members each. One of the sectors had four fixed posts and two surveillance posts. As a result, there were six people working at a time. The other four people were on standby. You are not completely off duty when you are on standby, but you can enjoy the festival (preferably within your sector) until you are needed. The more people we have on the team, the more we can rotate during the shifts and make sure everyone is off duty during their favourite band.'
Our squad during Castlefest 2022: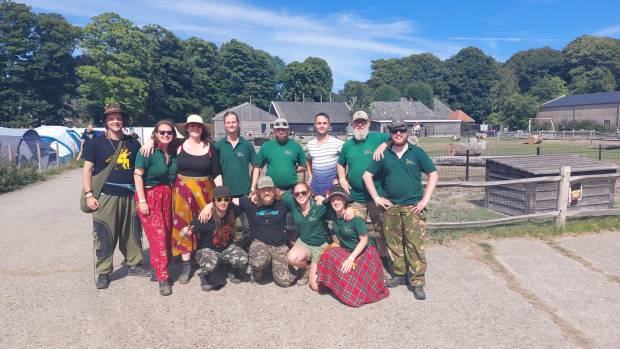 A tight-knit group
'As you work together with a small group, you quickly develop a tight-knit team! My favourite Castlefest editions were the ones where we had a squad working with each other and for each other. You really are in it together after all. I still keep in touch with last year's squad via our Whatsapp group.
Every squad contains a combination of new and experienced people. As I have been here for quite some years, I never worry about not having my friends in my squad. They are spread over all the squads, including mine! I see them during and outside of my shifts, and I quickly get to know the new members and future friends in my squad.
The great thing about team Toezicht is that you experience the whole festival during your shifts, you are right in the middle of it. During a surveillance walk, you enjoy the music from the stage. And when I surveil the market, I make a mental note which stands I want to visit during my break. I mainly like spending time with my friends at Castlefest, but for a Rapalje performance I'd like to have some time off!'
Is team Toezicht for me?
People expect that you have to be some kind of bouncer to work in team Toezicht, but that is definitely not the case! A better team name would be 'mood management' ;-)
Because of the word 'toezicht' [translation: surveillance / supervision], people expect that you have to be super strict and serious and deal with many unpleasant situations. But I hardly ever have to do that! Everyone at Castlefest just wants to have a nice time and an enjoyable experience, so usually you can work issues out together in a friendly and calm manner. If you manage to put the smile back on everyone's face, you've done a good job.
There are a number of qualities that I think a member of team Toezicht should have. The most important thing is that we fix it. What is 'it'? Well, any situation you come across. So it's about problem solving. That's a skill you develop quickly during your shifts. Sometimes the solution can just be that you don't have or know the solution and you get your squad leader involved. So long as you communicate honestly and openly towards everyone involved.
You also have to be prepared to walk a lot. Good walking shoes and a bit of stamina should be on your packing list. On the fixed posts, there are often chairs available. So if you, for instance, have knee problems, just let your squad leader know and you can get shifts on fixed posts.
And last but not least: don't forget to bring your positive attitude too! If we assume that everyone is here to have fun, then we'll have a blast together, both in your squad and with visitors. Nowhere is stated that you need to be stiff as a poker at the entrance. So feel free to ask for 'high fives' from all visitors so they will lift their arms and you can easily check all the festival wristbands ;-)
I have never been part of any other team, but I am not looking for that either. There are plenty of opportunities within Toezicht. For instance, next year I will be working as a squad leader for the first time. For my squad, I'm not looking for the biggest, most self-assured people. I want people who want to work with others and for others. Who make sure to be on time for their shift and are willing to help if someone needs a toilet break or a drink.
I dare to say that we're all a bit crazy, in a positive way. If you are a first-time volunteer and you don't know anyone yet, you will find with us a place where you can feel at home and you will be quickly accepted in the team. In short: You are very welcome at Team Toezicht!
Would you like to come and help Dorien in team Toezicht or would you like to come and help in another team? The information about all the teams and being a volunteer can be found here (in Dutch) on the website. Volunteer registrations for Castlefest 2023 have opened on January 31st, 2023.