The best way to travel is by public transportation! You meet new people, don't have to wait in traffic for a parking spot and it's better for the environment. We advise you all to come by public transport.
Below you can find the best ways to get to Castlefest. Enjoy your trip and see you there!

By shuttle bus
During Castlefest, there will be shuttle buses running to the parking lot of Castlefest. This year, the shuttle bus will run an extensive route, it will stop at both Hillegom station and Nieuw-Vennep station. Next to that, another shuttle service will run on Saturday. This one will stop at Voorhout station and Sassenheim station.

At the bus station you can hop on and get off at the Castlefest parking lot. You need a ticket for the shuttle bus. The two-way ticket costs €5,-. Bus tickets can be only bought in advance via our ticket page.
The drivers will endeavour to provide a shuttle-service every 30 minutes; however, due to the expected amount of traffic near the festival terrain, this may not always be possible. We thank you for your understanding.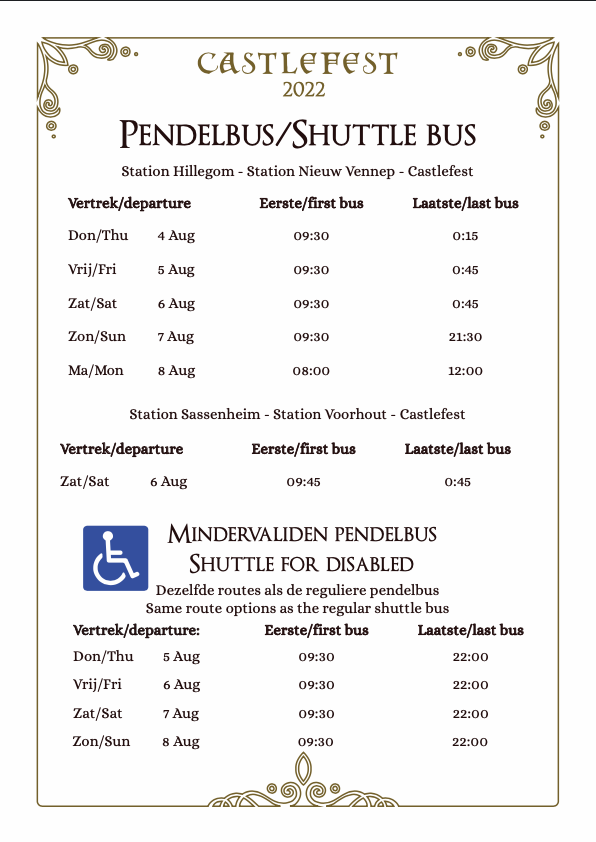 By train
To reach Castlefest by train, please travel to NS station Hillegom or Nieuw-Vennep. On Saturday you can also travel to NS station Voorhout or Sassenheim. From here you can take the shuttle bus.
Please mind! Plan your trip shortly before departure on www.ns.nl to see up-to-date travel information.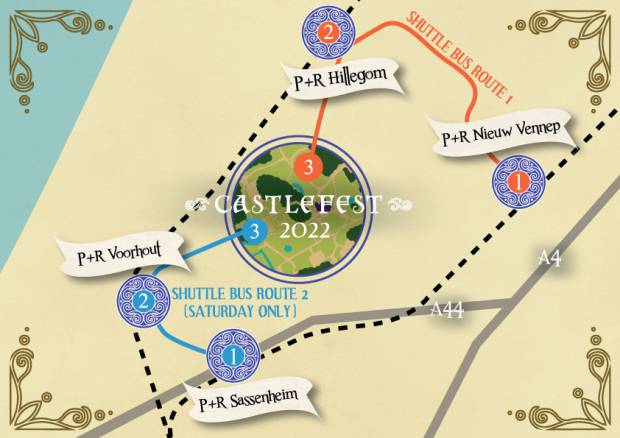 By bus
To travel by bus, plan your trip on www.9292.nl or maps.google.nl.
The nearest bus stop is Vreewijk, Lisse. Which is on 22 minutes walking distance from the festival.

Please mind! Plan your trip shortly before departure to see up-to-date travel information.
Our Address
Kasteel Keukenhof
Keukenhof 1
2161 AN Lisse
Holland
Plan your trip to Castlefest via www.9292.nl or www.ns.nl.