Parking tickets
To use our festival parking, you'll need to get a valid parking ticket online. You can find them on our ticket page.
When ordering, you get the options between parking tickets for all days and parking tickets for only one day. The day tickets can only be used on the day mentioned on the ticket.

Please mind! Parking tickets can only be purchased in advance. It won't be possible to purchase your parking ticket on site.
Update May 5th
At the moment Saturday and weekend parking tickets are sold out. Due to the fact that part of our parking is reserved for our camping, there are fewer spots available.
Next to that, we will provide more shuttle buses from various P+R parkings in the proximity of the festival grounds. These P+R parkings are next to NS train stations, so if you are traveling by public transport, you can also make use of these. Parking at the P+R parkings is free. You will need a shuttle bus ticket, which are available in our ticketshop. Each shuttle bus ticket offers a ride to the festival terrain and back to the P+R for one person.

Update July 27th
The Shuttle bus route 2 will drive on Friday and Sunday as well. You can hop on at Voorhout and Sassenheim from Friday to Sunday.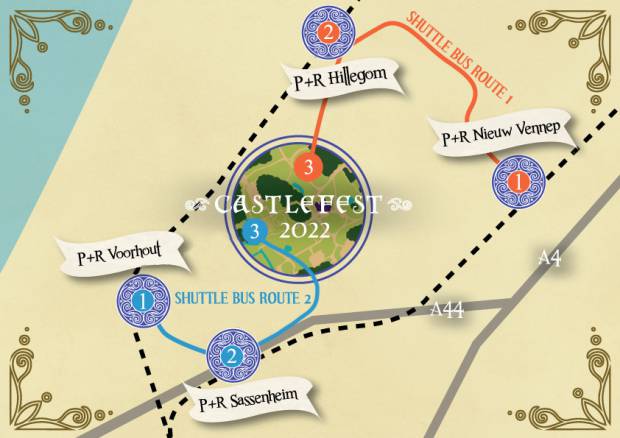 Shuttle service 1 (Thursday to Monday)
First stop: P+R Nieuw-Vennep, from the busstation
Address: Venneperweg 301, Nieuw-Vennep
This P+R is free for the first 24 hours. Don't forget to use the parking meter or parking app.
Second stop: P+R Hillegom, from the busstation
Address: 1e Loosterweg, Hillegom
Shuttle service 2 (Friday, Saturday and Sunday)
First stop: P+R Voorhout, from the busstation
Address: De Gaasbak, Voorhout
Second stop: P+R Sassenheim, from the busstation
Address: Stationsplein, Warmond
This P+R has a max. vehicle height of 2,10m.
There is a special shuttle bus for people with disabilities that drives from Nieuw Vennep P+R /station to Castlefest. People in a wheel chair or disability scooter can board this bus.

For the bus schedule, check our page about Public Transport.

Route

When in the area of Lisse, please don't just follow your navigation, but watch for the big yellow signs to Castlefest.
From A4 (Amsterdam, Rotterdam)
Turn-off Nieuw Vennep/Hillegom/Lisse and follow direction Lisse (N207). At the end of the N207 turn left, in the direction of Lisse (N208 / Westerlijke Randweg). Exit at Keukenhof.
From A44 (Den Haag, Leiden)
Turn-off Sassenheim/Lisse/Noordwijkerhout. Turn right at the second roundabout in Sassenheim in the direction of Lisse (N208 / Westerlijke Randweg). Exit at Keukenhof.
From N206 (Katwijk, Noordwijk, Vogelenzang)
Turn-off Lisse. Turn left at the roundabout towards N208 / Westerlijke Randweg. Exit left at Keukenhof.
Our address
Kasteel Keukenhof
Keukenhof 1
2161 AN Lisse
Holland

Don't forget your parking ticket!
Tickets