In 2024, the Festitent tents return to the Castlefest campsite. More about our campsite and its rules can be found here.
Staying at the Castlefest Camping, but not feeling like carrying a large amount of luggage to the campsite? We think we found the solution: FestiTent rents out ready-to-use camping spots on festivals. Forget about the hassle in the car park, dragging your camping gear to the entrance or the fight with your tricky tent. Just bring your 'festival essentials' and enjoy your festival happening from the moment you arrive, Easy and Relaxed! Even if you can only check in later, we'll make sure you have a great camping spot!

Multiple levels of comfort
Festitent offers multiple options for one, two or four people per tent. Beside the tent itself, you can also choose to let them bring (part of) your sleeping gear for you.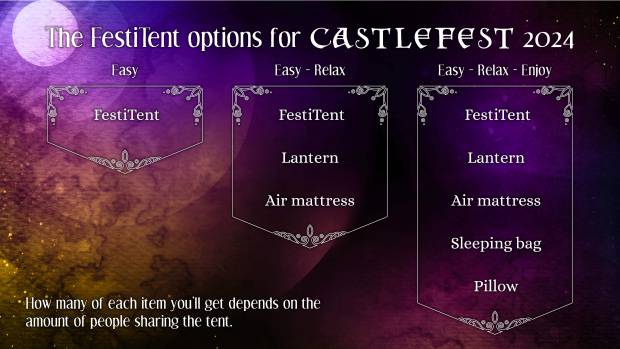 Dark Mode
Festitent also offers tents with Dark Mode. These tents let you sleep in and keep your sleeping area darker while the sun has risen. Just Relax in the dark and enjoy the festival fully recharged. All Festitents for 1 person are in Dark mode.
You can also choose Dark mode with one of the following options:
Festitent Easy-Relax for 2 people
Festitent Easy-Relax for 4 people
You book your FestiTent via our Ticket page.
Please mind! Festitents can only be used in combination with a valid camping ticket.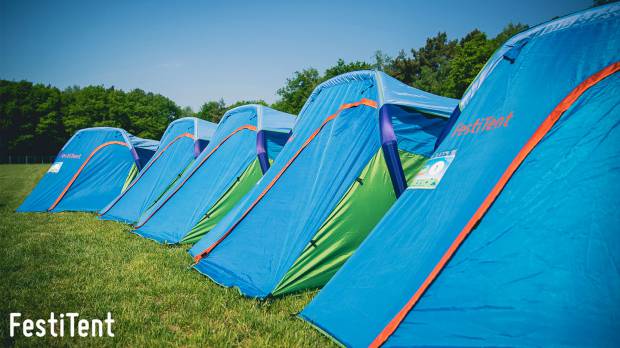 Get your Festitent and camping ticket in our ticket shop:
Tickets