Update: The Castlefest 2022 Camping is completely sold out. We have we tried hard to find alternatives with the several involved parties and organizations in the proximity, hoping to offer more camping spots. Unfortunately this didn't work out as we hoped. You can read our full statement here.
The fields that we have gratefully used for the campsite during previous editions have been designated as a nature reserve for native species. To protect nature and its inhabitants, our night party will be moved to the Keukenhof parking lot. This makes the campsite smaller, but it is much easier to reach and the animals are not as bothered by us.

Tickets
Castlefest Camping tickets are online available during presale! It is not possible to buy your campsite tickets at the entrance. Check out this page for all our ticket options. To stay at the Castlefest Camping, you will need a Castlefanatic ticket including camping.

Check-in
Check-in is possible on Thursday from 10:00 to 23:59 at the entrance of the campsite. From Friday onwards check-in is possible during the opening hours of the festival.
Stappen check-in:
You arrive by car or by public transport at the main parking area.
Walk from the main parking area to the campsite.
Check-in: show your camping ticket and get a wristband and a trash bag. – If your trash bag is full during the weekend, you can get a new one at the camping reception. Let's keep the terrain clean together!
Put up your tent.
Enjoy the feast and have a great time!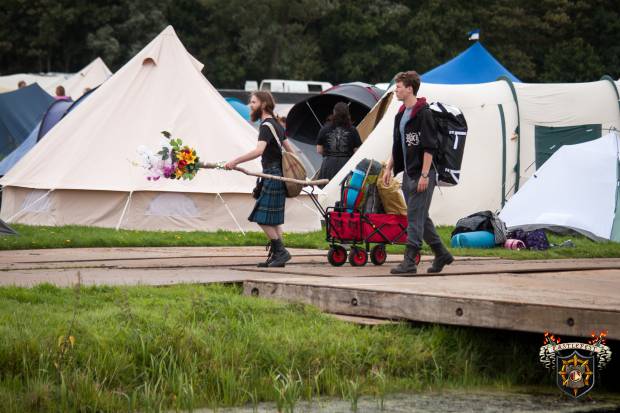 Facilities
Field Lay-out
Pitch your tent on one of the dedicated fields. Please place your tent as efficiently as possible, as space is limited. Party tents and other bigger obstacles are not allowed.
Tent sizes should correspond to the number of people staying in the tent.

The campsite is a quiet area. The Party Area is this year on the festival terrain (Woodland Village).
Electricity
There is no electricity available on the camping site. You can charge your telephone batteries at the campgrounds for a small fee.
Water
Drinking water taps can be found near the showers. Please note that it ́s only clean water when indicated by symbols!
People with disabilities
Unfortunately, our camping fields are not suitable for people with disabilities. There are no special facilities available on our campsite. Fortunately, there are several campings in the area that are more suitable for people with disabilities. Check out this page for a list of these campings.
Cooking area
Cooking is allowed in the designated cooking area. You are only allowed to use distillers that make use of disposable gas cartridges, types C206, CV300 and CV470 plus. At the cooking area, you'll find tables and drinking water. There is no electricity.

Camper vans, caravans and folding trailers
Unfortunately it isn't possible to camp at the Castlefest Camping in a campervan, caravan or folding trailer. However, this is possible on several campings in the area, in case you are keen on using one of those.

Campsite rules
Guests staying at the Castlefest Festival Camping accept any limitations or discomforts that go with staying at a festival camping. Even though there will be Vana Events staff present at the camping grounds at all times, Vana Events cannot be held responsible for any damage to, theft or loss of property. Campers younger than 16 years old need to be accompanied by an adult.
Bought on-site glass bottles and (LARP)weapons that are brought as part of your costume are not allowed at the camping. It is possible to temporarily safe-deposit these items at the camping entrance. It is NOT possible to deposit gas bottles and other camping prohibited items.
In the cooking area, you are only allowed to use distillers that make use of disposable gas cartridges, types C206, CV300 and CV470 plus. Using other types of gas bottles, (disposable) barbecues or cooking outside the designated cooking area is strictly prohibited because of fire safety regulations. In extreme heat, staff may avert from this rule.
Consider your neighbours. Don't put your tent in someone else's and try to be as quiet as possible after 23.00h. Party tents and other bigger obstacles are not allowed. Tent sizes should correspond to the number of people staying in the tent. In other words: Don't bring an army tent for 2 people.
Guide dogs need to be recognizable as such, preferable by a harness, coat or brace. Staff may ask about a guide dog certificate. Guide dogs need to be walked outside the camping area.
Litter is to be collected in the trash bags which are provided upon arrival. Full trash bags are disposed of in the designated containers. New trash bags are available at the camping reception and info stand.
The camping site is divided into multiple zones, each of which is designated with red-and-white cordons. Tents need to be set up at the designated spots. Fire exits situated in between these zones, need to be kept clear of any items at all times. Tents blocking any fire exits will be removed by the organisation immediately.
It is not possible to enter the camping grounds by car. Cars, vans, bicycles and motorcycles need to be parked at own risk at the visitors parking. Sleeping in these vehicles at the parking is prohibited.
There are NO special facilities (parking spots or showers) for the impaired on the camping site. Due to this quality of our camping fields, we discourage people with a physical handicap to stay at our camping.
Prohibited at the Castlefest camping: Open and closed fire (smoking equipment, candles, wax candles, barbecues, torches, fire-eating, free poi or other fire shows), gas bottles (with exception of types C206, CV300 plus and CV470 plus), (LARP)weapons, drugs, glass, sound systems and power generators, animals (with exception of guide dogs recognisable as such), handing out flyers, folders or any other kind of promo material and all other objects about which Vana Events staff decides on the spot.
The organisation reserves the right to permanently remove anyone from the camping site without reimbursement.
Book your campsite tickets now!
Opening hours Campsite
Thurday, 10:00h to Monday, 10:00h

Tickets