Change of plans? Change your tickets!
We are all looking forward to the next edition of Castlefest. Yet, plans or circumstances can change, so your tickets may no longer fit your plans. Through the change tool of Paylogic, you can upgrade your ticket to another ticket yourself.
Are you unable to come at all? Find our blog on safe reselling of tickets here.
How does the tool work?
Paylogic/See Tickets' exchange tool lets you change your order and exchange one of your tickets for another.
For example: You have a Passepartout (admission for Friday, Saturday and Sunday) and decide you would like to attend on Thursday as well. Then you can hand in your Passepartout ticket and exchange it for a Castlefanatic (Thursday, Friday, Saturday and Sunday) with an extra charge.

When you use the tool, you give Paylogic permission to invalidate your ticket. You can then use the value of the ticket in a special shop to buy the ticket you want. If the new ticket is more expensive, you will be asked for an additional payment during checkout.
Is the new ticket cheaper? Make sure you still spend the remaining amount, for example by buying tokens. Any remaining amounts cannot be processed or paid out later.

Please note: that this tool is linked to the regular ticketshop. If the ticket in our ticketshop is sold out, it will not be available through the tool either.
However, you can take a look at the resale platform: https://resale.seetickets.com/castlefest/
Here, ticket holders can offer their tickets for sale. More about this platform can be found in our blog about reselling tickets.
How do I change my ticket?
After completing your ticket order for Castlefest 2023, you have received a confirmation email. You will need this email again. This means that only the main buyer (the person who placed the order) can make adjustments to the order.
At the bottom of the confirmation e-mail, you will see the 'manage order' button. When you click this, you will be redirected to the web page as shown below. You will then find an overview of your order. Hover over the third option 'More actions' and select 'change tickets' in the drop-down menu.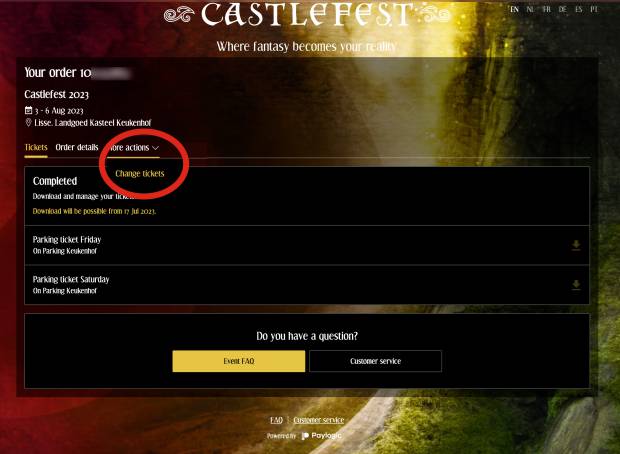 A pop-up window will open where you can select which ticket you want to exchange.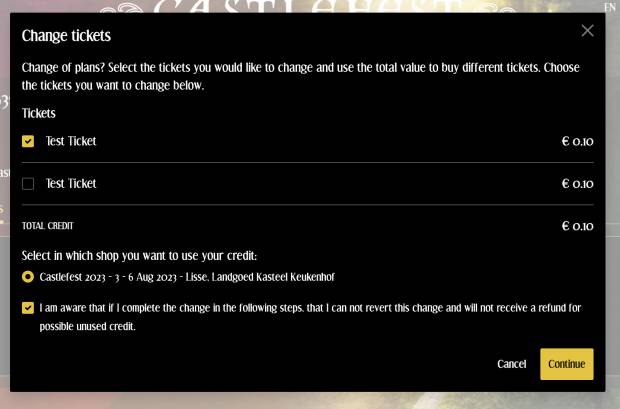 You will be redirected to the ticket shop. Here you choose your new ticket(s).
Please note! When a ticket is sold out in the ticket shop on our website, it is no longer available via this upgrade shop either.
All accommodations are also visible in this shop. You will need a separate Castlefanatic+camping to use a Castle Cabin or FestiTent.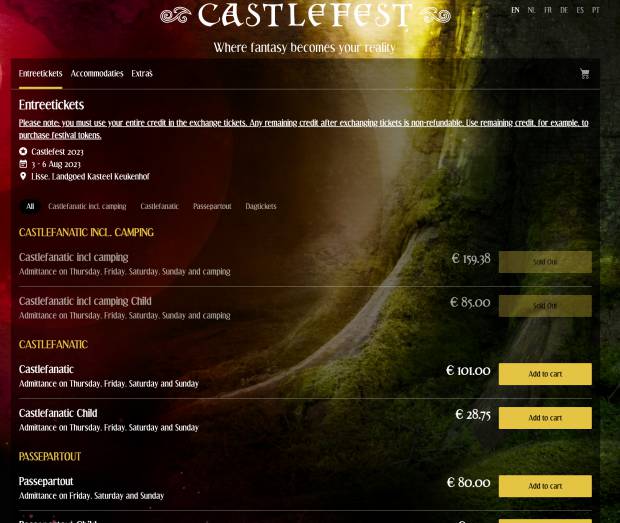 After selecting your new tickets, they will be added to your shopping basket. There, the amount of the old ticket is also automatically deducted from the price you have to pay.
Is the price of your old ticket(s) higher than your new ticket(s)? Make sure you use the remaining amount, for example by adding extra coins to your order. This amount is non-refundable.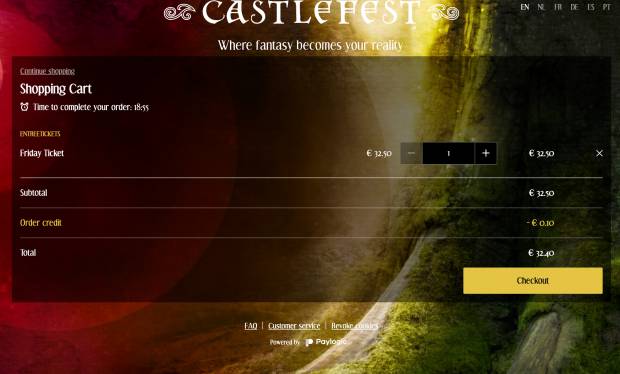 After completing your new order, you will receive an email confirmation. This is a new order, with a new order number.
Did your old order have other tickets or products that you are keeping? If so, you now have two orders.